Bells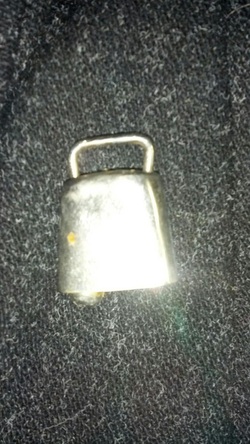 Bells, popular with bird hunters, also serve the beagler well. Where as a silent bell indicates a bird dog is motionless on point, a bell will ring faster as an excited beagle speeds up before jumping a rabbit. I find them valuable for allowing me to keep track of the hounds in thick cover, and monitor what direction they are moving as they work to find a rabbit. I can then call them to search in another direction to avoid roads or other hazards.

I live in a part of the world where the state game commission stocks pheasant, and these birds are about as wild as free range chickens. LOTS of guys walk the brush without a dog hoping to kill a formerly domesticated bird or two. The stocked pheasant are reluctant to fly, and I have seen hunters shooting at moving brush that they presume is a running bird. A clanging bell gives me a little more assurance that such unethical hunters will not shoot my dog while it is searching the thickets. I do own a tracking collar, but batteries do die, and the bell is old school technology that works well, or at least until it is packed with snow. I often hunt all day and never look at my GPS to locate the dogs, as the bells work just fine until they find a rabbit and the chase leads them far enough away that I can no longer hear the bells--but I can hear their baying at that point. I have heard this particular bell (hand made and sold at Lion Country Supply www.lcsupply.com) at nearly 200 yards in calm wind--according to the tracking collar.

---
Permethrin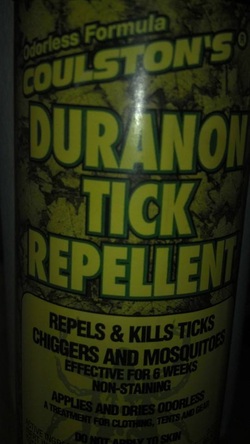 Permethrin is the active ingredient. There may well be other manufacturers other than his particular company. You are cautioned not to get this stuff on your skin in the directions. You apply it to your outer layer of clothes and it lasts over a month. I treat all my brush pants, hunting bibs, outer shirts, jackets, and hunting vest at the same time that I apply tick medicine to the dogs, which is monthly. I just hang them on the line to dry, even in the winter. If it is raining I hang them in the garage. This stuff works. There may be a risk if it gets on your skin, but as a pastor I can tell you I see many people hospitalized with Lyme disease. So I use this tick spray. My wife and I ran dogs, and upon returning she had 9 ticks, while I had none. Her clothes were not treated. We never saw deer ticks in this part of Pennsylvania, but they are very prevalent now. A great component in a comprehensive Lyme prevention program.

---
Pruning Shears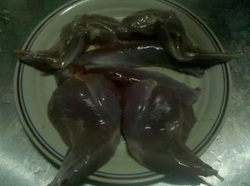 The picture to the left is a butchered rabbit. I carry pruning shears while hunting, and I no longer field dress rabbits. I use the pruning shears to remove all four legs after skinning the rabbits. I use a knife to remove the small "back straps." Pruning shears are also great to have in case you need to cut brush to reach a dog that has a collar stuck on a branch in the middle of a brush pile. You can use game shears or tin snips too. I have used all of these various tools to cut brush and cut bones. Whatever brand you like will work just fine. I buy cheap pruning shears, because I sometimes lose them.

---